Buto

Buto

Voice Actor (English)

Eric Stuart (Season 2), Bill Rogers (Season 3)

Voice Actor (Japanese)

Miyu Irino

Species

Unknown, possibly human

Gender

Male

Age

14

Color Scheme

Yellow skin and hair, black or red shirt, red or blue tied shirt around his waist, red or blue and white cap, red or blue sneakers

Eye Color

Blue

Likes

Tiff, Sonic the Hedgehog, Kirby, Amy Rose, Tuff, Lady Like, Sir Ebrum, Tails, Knuckles, Cream and Cheese, fighting, action, heroic adventures, junk food

Dislikes

King Dedede and his schemes, Escargoon, Dr. Eggman, broccoli and spinach

Skills

Lightsaber
Buto is a teenage boy created by Jacso Palace as a fan character. He first appeared in the second season of The Adventures of Amy and Tiff, where he moves in to Cappytown from his old (and unknown) hometown. His first online appearance occurred on April 1, 2004.
Personality
Edit
Buto shares the same love relationship with Tiff much like Sonic and Amy's relationship. In episode 37, it is revealed that Buto's main fighting weapon is a lightsaber.
"There it is! My new hometown awaits me!" - First lines
Counterparts
Edit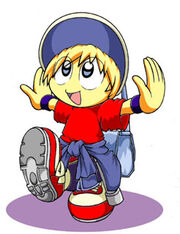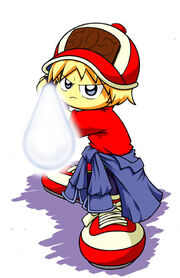 Ad blocker interference detected!
Wikia is a free-to-use site that makes money from advertising. We have a modified experience for viewers using ad blockers

Wikia is not accessible if you've made further modifications. Remove the custom ad blocker rule(s) and the page will load as expected.