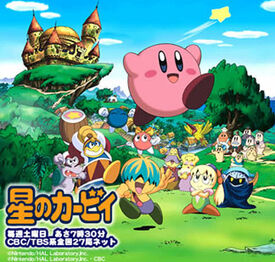 Kirby: Right Back at Ya!
is the second of two animated television series in which
The Adventures of Amy and Tiff
is based on. It was released in Japan in 2001 as
Kirby of the Stars
by Nintendo, HAL Laboratory and Chubu-Nippon Broadcasting and aired on the Tokyo Broadcasting System network. It was also a 4Kids Entertainment production in the United States.
Characters
Edit
Customer Service
Nightmare
Broadcast History
Edit
Aired from October 6, 2001 to September 27, 2003 with 100 episodes.
DVDs and VHS tapes were released from August 2002 to August 2004 by Avex Trax.
The series reran from June 28, 2007 to May 21, 2009 on Tokyo Metropolitan Television, a Japanese cable/satellite network.
It was available on the Wii no Ma from June 2009 until April 2012, when the channel terminated broadcasting.
United States
Edit
This country is where the 4Kids version started it all. The episodes aired from September 14, 2002 to December 9, 2006, half of them out of rotation. Minor edits were made in virtually every episode.
On October 9, 2009, 4Kids Entertainment's license to Kirby: Right Back at Ya! was terminated.
This cartoon aired on Télétoon, with at least 52 episodes, all redubbed from the 4Kids adaptation, unlike Sonic X, another anime dubbed by 4Kids Entertainment.
In this country and many other parts of Europe, the Kirby TV Channel was available from June to December 2011, then again from April to September 2012.
South Korea
Edit
Production for the Korean dub version occurred in 2004 by Tooniverse, then it began broadcasting in early 2005 with 52 episodes. It actually used 4Kids' edits, like France.
Currently, this anime is off-air worldwide. However, a selection of episodes is available in the video game Kirby's Dream Collection, in honor of the show's 10th anniversary in the U.S.
Main article: List of Kirby: Right Back at Ya! episodes
Theme Songs
Edit
"Kirby March" by Shanchii (Episodes 1-71)
"Kirby!" by Hiroko Asakawa (Episodes 72-100)
"Kihon wa Maru" by Shanchii (Episodes 1-71)
"Kirby Step!" by KONISHIKI (Episodes 72-100)
U.S. Version
Edit
"Kirby Theme" by Norman J. Grossfield and Ralph Shuckett
External Links
Edit
Official sites
Edit